Το 'The Lord of the Rings: Middle-earth Defense', το (officially licensed) tower defense game στο οποίο πρωταγωνιστούν οι γνωστοί ήρωες της επικής τριλογίας του J. R. R. Tolkien είναι από σήμερα διαθέσιμο μέσω του App store!
From deep within the dark lands of Mordor, Sauron's power grows. Protect Middle-earth from his advancing ranks in The Lord of the Rings: Middle-earth Defense!
Position your Heroes – Aragorn, Gandalf, Legolas and more – and deploy ally units such as Elven Archers or Hobbits to defend strongholds from relentless waves of attacking enemy forces.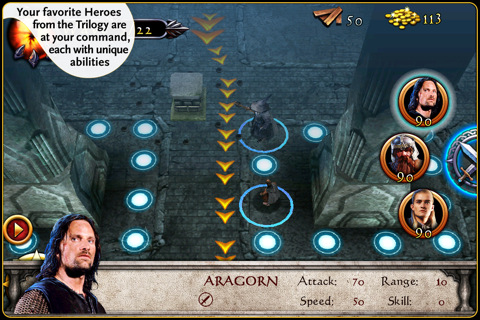 Upgrade your Heroes to specialize them in one of four categories: speed, attack, range and skill. In Story Mode, play through 18 levels set in 7 unique 3D environments with story elements based on all three films in the trilogy. Or opt for Challenge Mode, where you'll face endless waves of attackers until you've run out of Battle Hit Points.

Try to best your high score in each environment! The battle for Middle-earth has begun — stand and defend against the evil of the Dark Lord Sauron.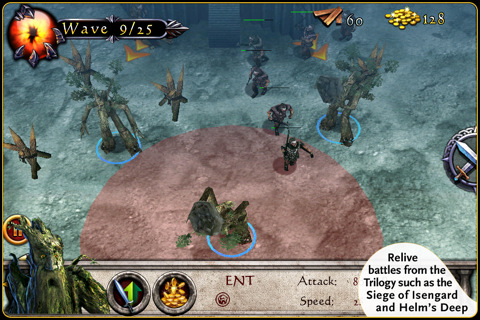 Στα χαρακτηριστικά του "LOTR Middle earth defense" περιλαμβάνονται:
Υποστήριξη του Game Center της Apple
Βελτιστοποιημένα γραφικά για Retina display
2 gameplay modes: Story (18 levels σε 7 διαφορετικές τοποθεσίες) & Challenge
Όλοι οι ήρωες της τριλογίας που αγαπήσατε
Το παιχνίδι διατίθεται σε δύο εκδόσεις, μία για iPhone/iPod touch και μία για iPad (HD), τις οποίες μπορείτε να βρείτε στα παρακάτω links:
'The Lord of the Rings: Middle-earth Defense' (iPhone/iPod touch): iTunes link – Τιμή: 5,49€
'The Lord of the Rings: Middle-earth Defense HD' (iPad): iTunes link – Τιμή: 7,99€
Συζήτηση στο forum: 'Lord of the Rings tower defense game for iPhone '
About Vasilis Ananiadis
Ο ζωντανός θρύλος της Ελληνικής blogόσφαιρας, ο αβυσσαλέος master του SEO, o πρίγκηπας των Social Media, ο τυφώνας των Web Startups, ο οργασμός της ιντερνετικής επιτυχίας. Τώρα και στο twitter: @vananiadis