Η EA, μετά το MONOPOLY Here & Now: The World Edition, φέρνει ένα ακόμη διάσημο επιτραπέζιο παιχνίδι στο iPhone/iPod Touch, το Trivial Pursuit!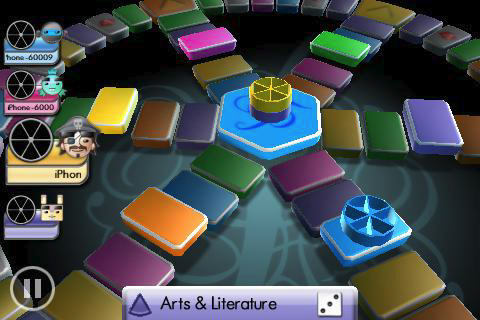 "Knowledge meets fun in this stylish version of the classic! With over 3,500 text and picture questions, you'll never run out of answers! Stunning 3D graphics and rich sound effects immerse you in the game.

Feeling nostalgic? Play a round in Classic Mode. In the mood for something new? Test your wit in Pursuit Mode. Fuel your competitive side with WIFI capability for up to four players and Pass and Play for up to six. Answer fun and challenging questions correctly and get your piece of the pie!"
Trivial Pursuit features:
• Over 3,500 questions including 2,900 text and 600 picture questions
• WiFi MP for up to four (4) players
• Pass & Play MP for up to six (6) players
•Simple and intuitive touchscreen controls
•Exciting 3D visuals and sound effects
•Features and Game Modes enhance replayability and depth
[iTunes link – Τιμή: 5,49€]
Συζήτηση στο forum: Trivial Pursuit on iPhone!
About Vasilis Ananiadis
Ο ζωντανός θρύλος της Ελληνικής blogόσφαιρας, ο αβυσσαλέος master του SEO, o πρίγκηπας των Social Media, ο τυφώνας των Web Startups, ο οργασμός της ιντερνετικής επιτυχίας. Τώρα και στο twitter: @vananiadis
Tags: iPhone, iPhone 3G, iPod Touch 2G