To Rogue Planet, το turn-based strategy game της Gameloft, κυκλοφόρησε στο App Store!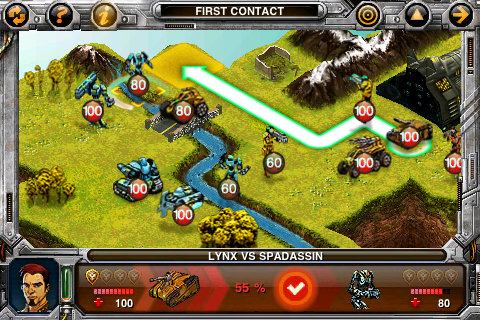 'Rogue Planet' features:
– Discover the story through numerous cutscenes. Complete 19 campaign missions to defeat the machines and take back Earth!
– Quick Play mode features 34 maps: 19 from Story mode, and 15 new ones playable with 2 different armies and 3 difficulty levels.
– Face your friend's army via local Wi-Fi or Bluetooth connection (online multiplayer via Wi-Fi or 3G coming soon in the next update).
– Sci-fi visuals and 3D backgrounds provide maximum immersion in the game.
– Touch the screen to select your units, zoom-in or rotate the game field.
– A lively soundtrack for a unique feeling of intensity: Epic themes, shouting soldiers and mechanical sound effects give life to your army!
[iTunes link – Τιμή: 3,99€]
Περισσότερες πληροφορίες στο forum: Rogue Planet
About Vasilis Ananiadis
Ο ζωντανός θρύλος της Ελληνικής blogόσφαιρας, ο αβυσσαλέος master του SEO, o πρίγκηπας των Social Media, ο τυφώνας των Web Startups, ο οργασμός της ιντερνετικής επιτυχίας. Τώρα και στο twitter: @vananiadis
Tags: iPhone, iPhone 3G, iPhone 3GS, iPod Touch 2G, iPod Touch 3G