Μια νέα θέση εργασίας στην Apple υποδηλώνει ότι το iPad εν τέλει θα λάβει αναβάθμιση με κάμερα.
Συγκεκριμένα, η Apple αναζητά έναν Performance QA Engineer για το iPad Media. To Ιnteractive Media Group (IMG) παρέχει την υποστήριξη για τα γραφικά σχεδόν σε όλα τα προϊόντα της Apple, όπως το iPhone, iPad, Apple TV, iPod, iTunes και Mac OS.
The Media Systems team is looking for a software quality engineer with a strong technical background to test still, video and audio capture and playback frameworks. Build on your QA experience and knowledge of digital camera technology (still and video) to develop and maintain testing frameworks for both capture and playback pipelines. You will work together with the development team to ensure quality. Your focus will mainly be on performance testing and developing performance measurement test tools. You will be responsible for the development and maintenance of methodical testing strategies and accompanying test documentation. Day to day activities will include developing and conducting functional/system/regression testing.ad-hoc testing; creating and tracking high quality bug reports; and reporting on project progress.
Πρόσφατες φωτογραφίες υποδείκνυαν ότι το iPad είχε σχεδιαστεί για να υποστηρίξει κάμερα αλλά τα σχέδια αυτά ίσως εγκαταλήφθηκαν τελευταία στιγμή.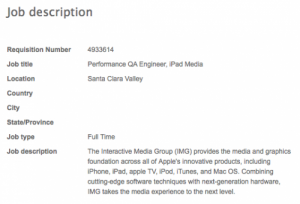 Συζήτηση στο forum: Apple job posting suggests iPad getting a camera (?)
[via iClarified]
More from Apple
---
11.2K
Ο Jony Ive, ίσως ο διασημότερος product designer στον χώρο της τεχνολογίας και αδιαμφισβήτητα το διασημότερο στέλεχος της Apple μετά τους Steve Jobs και Tim Cook, ανακοίνωσε ότι αποχωρεί από την εταιρεία για να ιδρύσει το δικό του creative studio! Ο Jony Ive ξεκίνησε την καριέρα του …
Editor Picks
---