Πρόσφατη πατέντα της Apple μας λύνει το μυστήριο γύρω από την απόριψη του Google Latitude app της Google από το App store (η εφαρμογή είναι διαθέσιμη μόνο ως web-app).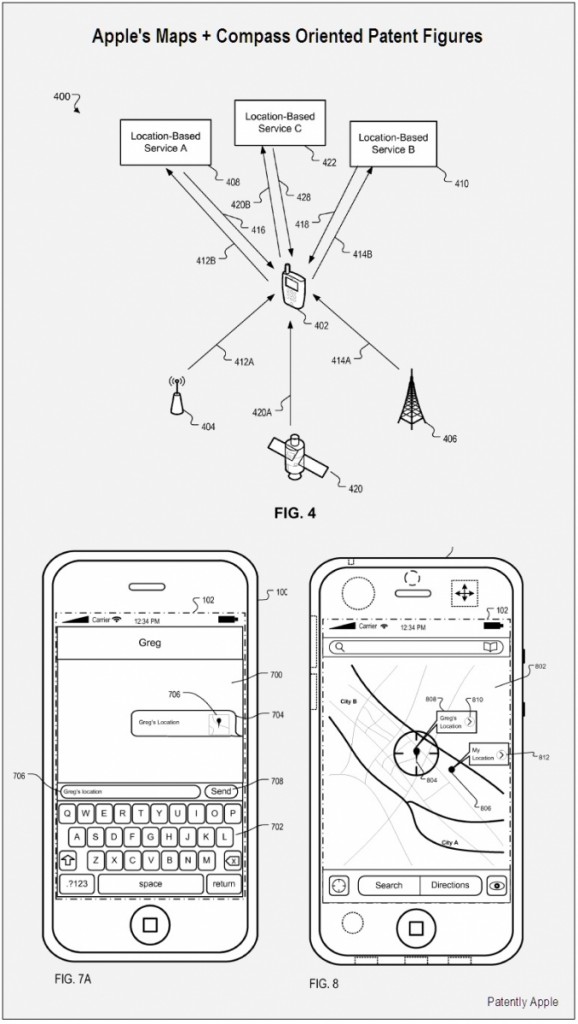 Όπως φαίνεται η Apple αναπτύσει μία παρόμοια (location-aware) υπηρεσία –  η οποία χρησιμοποιεί και εμπρόσθια κάμερα (?) – και για τον λόγο αυτό προχώρησε στην απόριψη της εφαρμογής της Google.
Location Sharing: Abstract – Geographic location data is sent from a first device to a second device with a modified message to signal the presence of geographic location data associated with the message. The message can include (or attach) the geographic location data or file, or the message can include a link to a network-based resource which the second device can use to obtain the geographic location data. In some implementations, when a user of the first device views a location on a map display of the first device, a graphical user interface is presented to allow the user to select an option to share the geographic location with the second device. The second device receives geographic location data or a link from the first device which can trigger a map display on the second device showing the location of the first device and, optionally, the location of the second device.
Position Fix Indicator: Abstract – In some implementations, a method includes: obtaining a first position measure at a mobile device indicating a geographic area where the mobile device is located, presenting a first graphical indicator on a user interface representing the geographic area; obtaining a second position measure at the mobile device, indicating a location associated with the mobile device, and within the geographic area; and presenting a second graphical indicator on the user interface representing the location within the geographic area.
Συζήτηση στο forum: Apple patents it's own Latitude Service
You might also like
---
More from Apple
---
11.2K
Ο Jony Ive, ίσως ο διασημότερος product designer στον χώρο της τεχνολογίας και αδιαμφισβήτητα το διασημότερο στέλεχος της Apple μετά τους Steve Jobs και Tim Cook, ανακοίνωσε ότι αποχωρεί από την εταιρεία για να ιδρύσει το δικό του creative studio! Ο Jony Ive ξεκίνησε την καριέρα του …
Editor Picks
---