Σύμφωνα με την Flurry (analytics company) η οποία παρακολουθεί εφαρμογές για iPhone – όπως η Admob, το Σ/Κ που μας πέρασε καταγράφηκε μεγάλος αριθμός αναφορών από Apple Tablets τα οποία διέθεταν το iPhone OS 3.2 και όχι το iPhone OS 4.0!

Τα Tablets εντοπίστηκαν να χρησιμοποιούν μία πλειάδα εφαρμογών: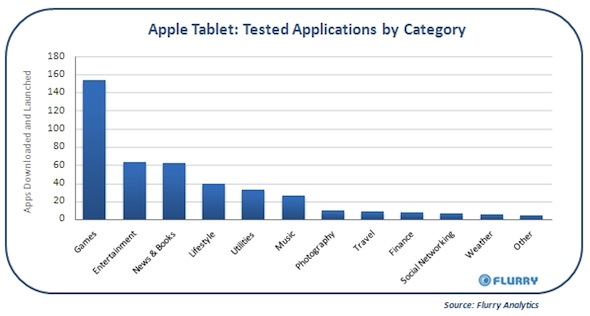 Το 9to5Mac επικοινώνησε με τον Peter Farago (VP of Marketing) της Flurry ζητώντας περισσότερες εξηγήσεις πάνω στο θέμα και σας παραθέτουμε την απάντηση:
Hi Seth,
This is a fair question. We feel confident that we are looking at the tablet device for two main reasons, that I can share with you. Also note that, as a company, we have experience tracking new Apple hardware devices in the past.
1) If this were an iPhone we were looking at, the hardware would tell us when we ask it (via the software). So we can rule out that this is an iPhone. Also, we already see verified iPhone devices testing OS 4.0 and these leave (Apple's Cupertino, CA) campus, whereas this device does not. This makes sense given the secrecy around the new tablet device as the launch event nears.
2) The apps being tested match up to what the devices is supposed to feature (e.g., news, books, etc.). We cannot share further detail here due to Terms of Service agreements we have with customers that use our service, but feel that if you were able to see the data we see, at the level of granularity, it would be clear to you as well.
Of course the truth will be revealed on Wednesday, but we wouldn't publish such a report without a high level of confidence.
Flurry is not interested in building a business on rumor, but rather authority, credibility and accuracy.
Thanks,
Peter Farago
VP Marketing
Flurry, Inc.
Συζήτηση στο Forum: Apple Tablet iPad iSlate
You might also like
---
More from Apple
---
11.2K
Ο Jony Ive, ίσως ο διασημότερος product designer στον χώρο της τεχνολογίας και αδιαμφισβήτητα το διασημότερο στέλεχος της Apple μετά τους Steve Jobs και Tim Cook, ανακοίνωσε ότι αποχωρεί από την εταιρεία για να ιδρύσει το δικό του creative studio! Ο Jony Ive ξεκίνησε την καριέρα του …
Editor Picks
---