To Archetype είναι ένα νέο First Person Shooter (FPS) το οποίο μόλις κυκλοφόρησε στο App store, τρίζοντας τα δόντια του στον ανταγωνισμό (βλ. Eliminate)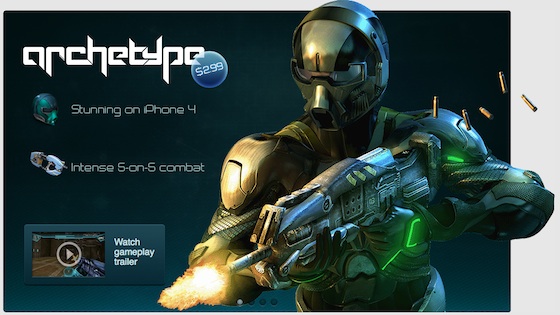 Archetype features:
Optimized for iPhone 4: Takes full advantage of Retina Display with higher resolution weapons, textures and crisper on-screen HUD. Headshots never looked so good!
Intense multiplayer-only deathmatches for up to 5 on 5 combat
Team battles across maps5  with 6weapons (including the Battle and Precision Rifles, rapid-fire AutoMag, shotgun, missile launcher, and brutal melee axe) plus 2 grenade types
Precise dual joystic-style controls: Master the tight controls in seconds
Rank-up by earning EXP for winning games, earning any one of dozens of medals, and more!
Instanly add and challenge buddies: Start a deathmatch in seconds
Track enemies via on-screen radar
Melee with any gun by tapping the on-screen radar
Customize your gameplay: Invert aim axis, set aim sensitivity, hide on-screen joysticks, even turn off auto-fire!
Hone your skills with offline tutorial mode
iPwnage via Wi-Fi, 3G, or even Edge—take a console-style FPS experience on the go
Network Connection Required. A 3G or WiFi connection is recommended for best gameplay experience.
[iTunes link – Τιμή: 2,39€]
Συζήτηση στο forum: Archetype multiplayer FPS
More from Appstore
---
14.5K
Αν και δεν έχει έχει ανακοινωθεί επίσημα από το Facebook, μπορείτε να ενεργοποιήσετε το Dark Mode στο Facebook Messenger, με έναν πολύ απλό τρόπο: Ανοίξτε μια συνομιλία σας με οποιαδήποτε επαφή σας στο Facebook Messenger και αποστείλτε το emoji του φεγγαριού (🌙). Αμέσως, θα σας εμφανιστεί …
Editor Picks
---