Η EA Games έκανε διαθέσιμο εδώ και λίγα λεπτά το FIFA 12 για τις iOS συσκευές.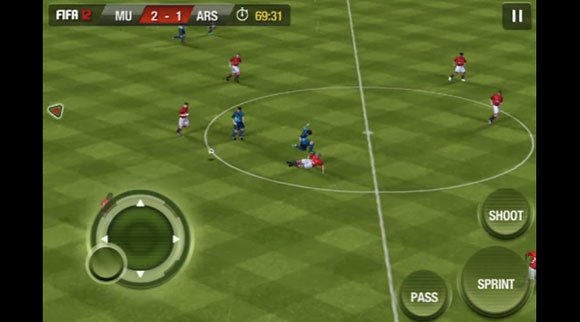 LOVE FOOTBALL. PLAY FOOTBALL. Experience the action of your favorite sport like never before! Watch matches come to life with vibrant graphics, ultra realistic animations, and the most responsive controls ever delivered on iPad. Now for the first time on iPad, take your club to the top of the league table with Manager Mode.
Trade players, upgrade staff, and scout for talent. Develop players and choose the best tactics to make your squad the team to beat!
Featuring over 22 officially licensed leagues, 500 licensed teams and more than 15,000 players. Take to the pitch with superstars like Kaka, Wayne Rooney, Gerard Piqué, Karim Benzema and more. From the English Premiership and La Liga, to the German Bundesliga and beyond – dominate your league and march toward glory in 32 authentic stadiums.
Capture the passion and power of the world's most popular sport with unprecedented authenticity. This is the deepest, most visually striking football title ever. Feel every thrill on the pitch with your heroes, anytime, anywhere.
New control schemes let you handle the ball with greater precision than ever before. Master free kicks and penalty shots with full touch control. Get in the game with realistic 360° player movement and gesture-driven skill moves. Pull off defense-splitting passes, rifling shots, penalty kicks, and pro-style tricks.
Check out the FREE EA SPORTS ™ Gamepad App. Turn your iPhone into a wireless controller for the ultimate head-to-head experience on your iPad.
Το FIFA 12 για iPad κοστίζει 6,99 €, ενώ για το iPhone και iPod touch είναι ξεχωριστή εφαρμογή με ελαφρώς λιγότερες λειτουργίες και τιμή 4,99 €. Σας αναφέρουμε μόνο πως το μέγεθος του παιχνιδιού είναι λίγο μεγαλύτερο από 1 GB.
Σχολιασμός στο Forum: FIFA 12
You might also like
---
More from Appstore
---
13.4K
Αν και δεν έχει έχει ανακοινωθεί επίσημα από το Facebook, μπορείτε να ενεργοποιήσετε το Dark Mode στο Facebook Messenger, με έναν πολύ απλό τρόπο: Ανοίξτε μια συνομιλία σας με οποιαδήποτε επαφή σας στο Facebook Messenger και αποστείλτε το emoji του φεγγαριού (🌙). Αμέσως, θα σας εμφανιστεί …
Editor Picks
---