Το GOALS! είναι ένα arcade soccer για το iPhone, από την 'The Game Creators' το οποίο θα ξυπνήσει αναμνήσεις από τα παιδικά σας χρόνια, όταν παίζατε το 'Kick off' και το 'Sensible soccer' στο Pc/Amiga/Atari κτλπ.
INTUITIVE CONTROLS
You're at the heart of the action as you direct your players with the joystick touch control. Deliver a timely pass to your striker with the action buttons and then round the keeper to blast the ball into the opponents net.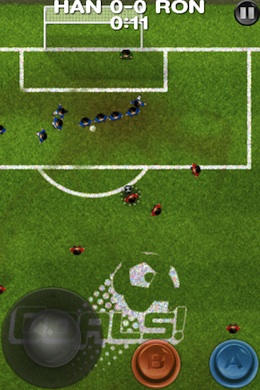 ATTACKING
Pass player to player or hit a long ball up field as you take on the opposing team. You have full control of the player with the ball and can change to other players when the ball is free or with the opposition.
DEFENDING
Guide your defenders and help them block or slide tackle to win back the ball. Slide in from the side and steal the ball to win back possession.
SHOOTING
In GOALS you can score in many varying ways. Shoot from close range, round the keeper and slot one into the empty net or blast one from long range and curve it into the top corner! Yes, you can add after touch curve to the ball which makes taking free kicks a real joy.
FREE KICKS & PENALTIES
Slide tackles from behind may bring the referees whistle! Outside the box and a free kick will be awarded. Players line up to form a wall, so try bending the ball around and into the goal. An infringement inside the box will bring a penalty, use your judgement to slot the ball into the corner of the goal.
FEATURES
* Fast and fun arcade game play
* Goal kicks, corners, throw-ins, free kicks and penalties
* Set the game length
* Cup Competition
* Extra time and penalties in cup games
* Edit team names
* Select team kit colors
* Set opponent AI skill
* Five difficulty levels
* Atmospheric soccer sounds
REPLAY
After each goal is scored you can view it back in slow motion, reliving your awesome footie skills!
CASUAL GAMING AT ITS BEST!
GOALS is a great time killer, always ready to fill your spare time with a quick match.
CUP COMPETITION
Enter the cup tournament and play your way to the final to win the coveted GOALS CUP. You can set the number of tournament rounds, from 3 to 9.
Match lengths can be as quick as 2 minutes and as long as 20.
______________________________
COMING SOON in 2010…
* Multi-player Gaming
– Play two players on the same device
– Play across WiFi
Σύμφωνα με τον developer η τιμή του στο UK Appstore θα είναι £2.99 και αναμένεται να κυκλοφορήσει μέσα στον Δεκέμβριο!
Stay tuned!
Συζήτηση στο forum: Goals! arcade soccer for iPhone
You might also like
---
More from Appstore
---
14.1K
Αν και δεν έχει έχει ανακοινωθεί επίσημα από το Facebook, μπορείτε να ενεργοποιήσετε το Dark Mode στο Facebook Messenger, με έναν πολύ απλό τρόπο: Ανοίξτε μια συνομιλία σας με οποιαδήποτε επαφή σας στο Facebook Messenger και αποστείλτε το emoji του φεγγαριού (🌙). Αμέσως, θα σας εμφανιστεί …
Editor Picks
---