To iMafia είναι ένα νέο multiplayer online role playing game για το iPhone/iPod Touch* το οποίο υπόσχεται να σας κάνει να ξεχάσετε το iMob.
"Turn your petty mafia into the most prestigious, powerful mafia in the iMafia underworld."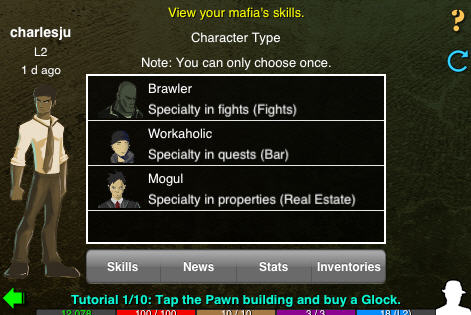 FEATURES:
– FREE graphically-enabled, immersive massively multiplayer online role playing game for iPhone and iPod touch
– Gain street cred for your mafia with numerous quests
– Pimp your mafia with weapons, armor, and vehicles
– Fight ONLINE with other mafia
– Hitlist enemies with a cash bounty
– Become a real estate baron through properties
– Countless hours of gameplay
– Global leaderboard to recognize the top mafia
– Connect with your friends through email & texting
[Thanks to fuzzy]
Συζήτηση στο forum: iMafia! iMob competitor
* iPod Touch users can only play on WiFi.
You might also like
---
More from Games
---
6.4K
Όπως κάθε χρόνο έτσι και φέτος, η Apple ανακοίνωσε τη λίστα των καλύτερων εφαρμογών, παιχνιδιών, ταινιών, Podcast κ.ο.κ. που αφορά περιεχόμενο που μπορεί κανείς να αποκτήσει μέσα από το οικοσύστημα της. Best Apps of the Year App Trend of the Year …
Editor Picks
---