Η ημέρα της ανακοίνωσης του iPhone 3G πλησιάζει και οι φήμες οργιάζουν! Ας δούμε τις εξελίξεις των τελευταίων ωρών:
Crunch
Gear
:
Thinner
than the current model, with a MacBook Air-like bezeling and
stereo speakers
on the back and a f
ront facing camera for iChat
AV.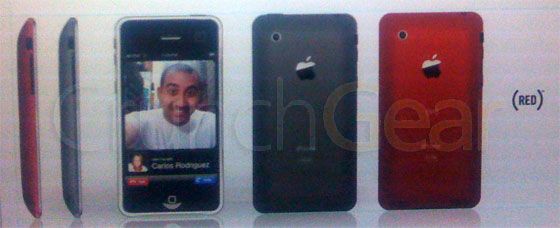 iPhone Atlas: Σύμφωνα με πληροφορίες μέσα από την Vodafone, το iPhone 3G έχει τα εξής χαρακτηριστικά:
The back is gloss black.
All are running v2.0 firmware.
The bootloader hardware exploit is now fixed.
The phone is running V 04.41.01 modem software.
The phone is locked down like no phone has ever been. At this stage, you can't jailbreak it and you can't hardware unlock it.
There is an added icon for contacts. This allows you to go straight to your contacts without having to hit the Phone icon first.
The GPS works very well. It will attempt to obtain your position via WiFi first, cell tower second, then satellite third. The accuracy appears to be within 3 meters.
We were getting a data transfer of 140kbps on average. It droped down to 70 kbps when we went inside.
Apart from that, the "feel" is much the same. The phone is smaller (I would say 20 percent) and it is noticeable when you pick the unit up.
Engadget
: Μετά από ανάλυση του
iPhone Firmware 2.0
:
Quad-band GSM support (as we currently have), A-GPS, and tri-band UMTS / HSDPA.
Infineon PMB6952 / S-GOLD3 six-band UMTS / HSDPA transceiver
Murata LMRX3JCA-479 tri-band amplifier
Sony SP9T antenna switch for GSM / UMTS dual mode
ARM 1176JZF-S – Main CPU (same as in 1st gen iPhone)
Skyworks 77427 chip – UMTS / HSDPA tx 1900MHz, rx 2100MHz
Skyworks 77414 chip – UMTS / HSDPA 1900MHz
Skyworks 77413 chip – UMTS / HSDPA 850MHz
Internal build model number: n82ap (1st gen iPhone was model m68ap)
UMTS Power Saving option – on or off
Hooks for Global Locate Library (GLL), software that handles A-GPS related commands for the host processor
Engadget
claims that
Crunch

Gear
's pics are fake [
link
]:
Our source who played with the 3G iPhone told us explicitly there is no front-facing videoconferencing camera.
Even still, when we were ferreting around the new 3G iPhone firmware today, we were keeping an eye out for altered or additional camera drivers, something to indicate a front-facing camera. Nothing.
The text explanation for Exchange and iChat are so bad as to make the whole thing unbelievable.
Say, wouldn't that exchange logo be in the Apple banner that's up at the Moscone right now? All the other iPhone icons are.
No Apple design would be laid out the way this guy's got his page laid out here.
Stay tuned for more iPhone 3G rumors…
You might also like
---
More from Apple
---
11.2K
Ο Jony Ive, ίσως ο διασημότερος product designer στον χώρο της τεχνολογίας και αδιαμφισβήτητα το διασημότερο στέλεχος της Apple μετά τους Steve Jobs και Tim Cook, ανακοίνωσε ότι αποχωρεί από την εταιρεία για να ιδρύσει το δικό του creative studio! Ο Jony Ive ξεκίνησε την καριέρα του …
Editor Picks
---