Η παρουσίαση του iPhone OS 3.0 ολοκληρώθηκε* σήμερα το πρώι στο Cupertino!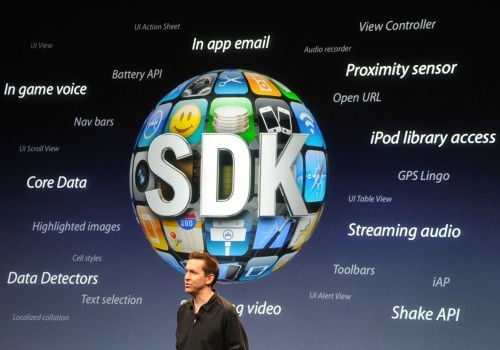 New features: 1.000 νέα APIs, Υποστήριξη νέων μοντέλων πώλησης, Peer to Peer connectivity, SDK support for hardware accessories, Maps (Turn by Turn applications!), Push Notifications.
Ας δούμε, ένα προς ένα, τα νέα χαρακτηριστικά του iPhone OS 3.0:
1. 1.000 νέα APIs
2. Υποστήριξη νέων μοντέλων πώλησης, όπως π.χ:
– Subscriptions for magazine developers
– Additional levels for game devs
3. Peer to Peer connectivity
Jason Chen:

"The new multiplayer connectivity allows you to bring up a dialog that lets you find local devices. The services provided are Automatic Discovery over Bluetooth (no Wi-Fi), no pairing, Bonjour, and isn't just for games.

But this isn't just for games, it works for ANY P2P application. For example, apps that can send business cards to another phone, in a handshake-like manner".

4. SDK support for hardware accessories
Jason Chen:

With the iPhone 3.0 SDK, they're going to enable accessory developers to make custom applications that can communicate directly with the accessory. For example, an equalizer application on the phone that can control the equalizer on the speaker when it's docked.

Another example is an FM transmitter. With 3.0, the dev can build an app on the iPhone itself that can control the FM tuner, finding the best frequency to use at the current moment.

An even more esoteric application is for medical devices, like a blood pressure monitor that can dock into the iPhone that allows you to send your blood pressure directly to your doctor after you've measured it.

These accessories can talk to the phone over the dock connector AND over Bluetooth.

You can use standard protocols or build your own custom protocols.
5. Maps
Jason Chen:

Many developers have asked Apple to use Google Maps inside of their application. And it's here. The Maps app can now be used as a public API and be embedded directly into any app.

Everything is in there–pinch and zoom, custom annotations, satellite views, location tracking and location tracking.

There is also ONE MORE THING to do with Apps. Developers can now use CoreLocation to make Turn by Turn applications.

So now you can build a turn by turn application app, but you cannot use Apple's Google Maps because of licensing issues. But you can bring your OWN maps (as a developer), and make turn by turn directions for the iPhone.
6. Push Notifications
Jason Chen:

Now, Push Notification. "You know, we're late on this one." "There's a few reasons for this, most importantly, within two months of launching the App Store, we had over a thousand applications on the app store."

Apple had to completely rearchitect the structure for the push notification in order to make it scalable for all the millions and millions of downloads. But now, they're "good to go."

Developers asked them to do background processing, because it's "easier to do background processing." But Apple says it's "not good for the customer."

Apple's been testing background processing on other phones (Windows Mobile, Android) by opening up an IM app, and just having it run in the background lowers battery by 80%.

By using Apple's push notifications, battery life only dropped by 23% when an IM app is "open" in the background, listening for messages.

Here's how Push notification works again. The Push notification service has a persistent connection to the phone, so you can get notifications all the time. The three things you can send are badge alerts, text alerts and audio alerts. Text alerts appear like SMS alerts, badges show up on the app icon, and audio alerts (like AIM) plays in the background.

To be perfectly clear, this means no background processing yet. Just push notifications.

In game voice chat is also one of the various APIs now open, as is iPod library access, proximity sensor, audio recorder, battery API, streaming audio and video, data detectors, text selection, UI alert view, sake API (for rumble) and GPS lingo.
* όσον αφορά την πλευρά των developers.
[Via Gizmodo]
More from Apple
---
11.2K
Ο Jony Ive, ίσως ο διασημότερος product designer στον χώρο της τεχνολογίας και αδιαμφισβήτητα το διασημότερο στέλεχος της Apple μετά τους Steve Jobs και Tim Cook, ανακοίνωσε ότι αποχωρεί από την εταιρεία για να ιδρύσει το δικό του creative studio! Ο Jony Ive ξεκίνησε την καριέρα του …
Editor Picks
---