Το 'Need for Speed: Hot Pursuit' κυκλοφόρησε στο App store!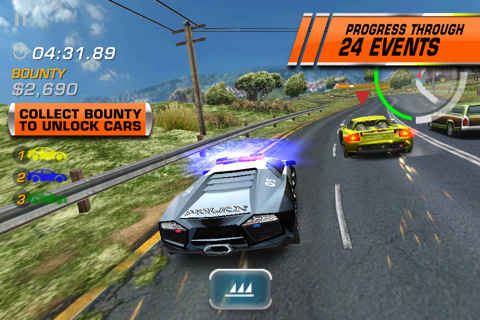 Stop racers cold in high-speed police cars like the Lamborghini Reventon – and challenge a friend to a head-to-head Cop vs. Racer showdown via local WiFi or Bluetooth. Made to maximize the Retina Display, the eye-popping visual quality will blow you away!

Drive as a cop and make the bust! Take on up to 24 Cop Career Events. Start as a rookie, collect bounty, and progress to the top of the ranks. Lay down the law with roadblocks and spike strips. Fry the racer's electrical system with an EMP lock. Be the enforcer. Feel the power.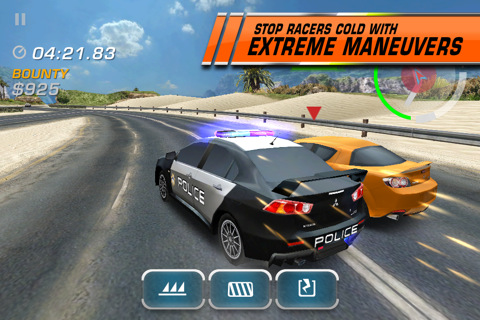 Operate up to 15 high-performance police cars. Use nitro and hand brakes. Pull off 180° spins. Grind, nudge, and drift! Accomplish extreme maneuvers and score bounty points!

Take on a friend and pursue…or be pursued! Select from 5 cop cars and 5 racer cars, and play out the ultimate cat-and-mouse road race through local WiFi or Bluetooth.

Focus on the chase with the intense HD-quality clarity of the Retina Display. Burn through coastal, desert, and mountain environments in night, day, and dusk scenarios. Experience epic takedowns and awesomely over-the-top crashes.
[iTunes link – Τιμή: 3,99€]
Σχολιασμός στο forum: 'Need for Speed: Hot Pursuit'
More from Appstore
---
13.7K
Αν και δεν έχει έχει ανακοινωθεί επίσημα από το Facebook, μπορείτε να ενεργοποιήσετε το Dark Mode στο Facebook Messenger, με έναν πολύ απλό τρόπο: Ανοίξτε μια συνομιλία σας με οποιαδήποτε επαφή σας στο Facebook Messenger και αποστείλτε το emoji του φεγγαριού (🌙). Αμέσως, θα σας εμφανιστεί …
Editor Picks
---