Επιτέλους! Μετά από προσμονή πολλών μηνών το "Need for Speed: Undercover" είναι διαθέσιμο στο App store*!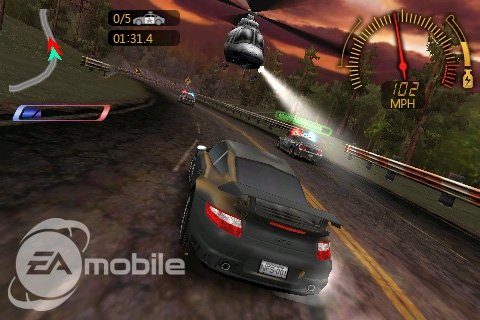 "Need for Speed: Undercover" features:
– HOT HANDLING – Corner and drift through fiery crashes at 150mph+ with precision-tuned tilt control steering.
– YOU'VE GOT THE POWER – Activate Nitrous Boost and Speedbreaker with the swipe of your finger for intense driving action.
– TRICK RIDES – Drive 20 of the world's fastest and hottest cars like the Porsche Carrera GT, Nissan 370Z (Z34), Lamborghini Gallardo and the Pagani Zonda F—each boasting its own unique style and performance features: handling, steering, cornering and acceleration.
– EDGY ENVIRONMENT – Incredible 3D graphics enhance this exhilarating driving experience. Sweeping camera angles intensify your ride and yield a realistic look and feel—simply put, the best visuals iPhone and iPod have to offer.
– GO UNDERCOVER – Use the interactive Mission Map to guide you through 24 covert ventures that lead to intricate secret missions.
– RULE THE ROAD – Take on cops in raging street battles as you race through dramatic, animated crash scenes. Dominate 8 high-impact race modes including: Highway Battle, Sprint, and Cop Takeout.
– POWER ACHIEVER – Earn performance upgrades like Boost, Speed, Acceleration and Handling for even greater velocity.
– TEARIN' IT UP – Gnarly impact-crash sound effects and ambient street noise surround and amplify driving. Cause unbelievable damage in bounty events and destroy 3D obstacles like roadside signs and other cars.
– YOUR PERSONAL HANDLER – Receive missions and updates via full motion cinematics from the sexy Miss Chase Linh, played by Maggie Q.
– OWN IT – Customize your vehicle with aftermarket spoilers, multiple wheel options, body kits and a variety of paint schemes.
– DRIVING TUNES – MP3-quality music featuring popular artists like Airbourne keeps you pumped while you race. Activate your iTunes® music library and listen to your personal faves.
[iTunes link – Τιμή: 9,99$]
* Προς το παρόν διατίθεται μόνο στο US App store… αναμένουμε να ενημερωθούν και τα Ευρωπαϊκά App store συντόμως…
Συζήτηση στο forum: Need for Speed: Undercover
You might also like
---
More from Appstore
---
14.3K
Αν και δεν έχει έχει ανακοινωθεί επίσημα από το Facebook, μπορείτε να ενεργοποιήσετε το Dark Mode στο Facebook Messenger, με έναν πολύ απλό τρόπο: Ανοίξτε μια συνομιλία σας με οποιαδήποτε επαφή σας στο Facebook Messenger και αποστείλτε το emoji του φεγγαριού (🌙). Αμέσως, θα σας εμφανιστεί …
Editor Picks
---