Το 'Real Football 2011' της Gameloft κυκλοφόρησε στο App Store!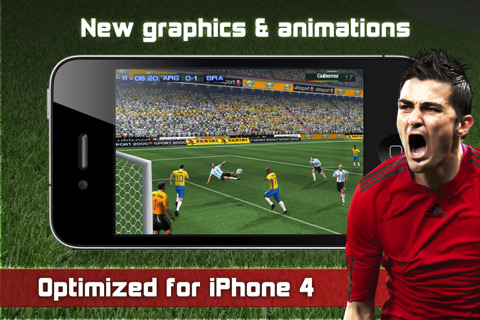 A NEW VISUAL APPROACH
The revamped graphics push the definition of "life-like" and motion capture technology has allowed us to create the most fluid player animations based on movements of pro soccer players.
RELIVE SOCCER HISTORY
Jump into soccer's most exciting moments with a History mode that lets you alter the course of the game's most epic matches. Can you change the result of the last European Clubs Cup?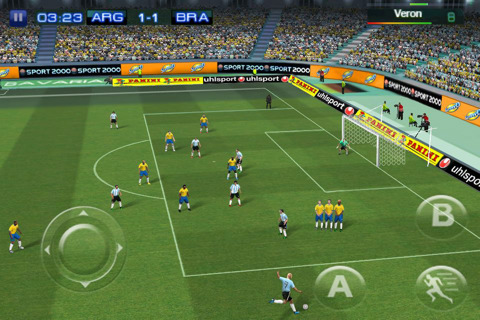 EVEN MORE TEAMS
The game's depth has been pushed even further than before by including a whopping 350 teams and 14 leagues. And as always, we have the names of almost all real players thanks to the FIFPro license.
ALL YOUR FAVORITE MODES
Manage your team like a coach and lead them on the field throughout the season in Club Master.
Step into the spotlight and control the life of a single player in Enter the Legend.
Challenge your friends to epic matches in Wi-Fi and Bluetooth Multiplayer.
SEE THE ACTION LIKE ON TV
Dynamic camera angles, coach reactions, player celebrations and more make every minute of gameplay feel like you're watching the match live!
SHOW YOUR STUFF ON YOUTUBE
Made an amazing goal? Somehow dribbled your way around three defenders? Show everyone! Upload your favorite replays directly to YouTube and forever bask in your glory.
ONLINE PLAYERBASE UPDATES
Keep your game up-to-date with all the most recent player transfers and lineup changes thanks to regular online updates.
SOCCER NEWS ON-DEMAND
Access official soccer news feeds right from the game menu and never miss the scores while playing your own games.
[iTunes link – Tιμή: 3,99€]
Συζήτηση στο forum: 'Real Football 2011'
More from Appstore
---
14.1K
Αν και δεν έχει έχει ανακοινωθεί επίσημα από το Facebook, μπορείτε να ενεργοποιήσετε το Dark Mode στο Facebook Messenger, με έναν πολύ απλό τρόπο: Ανοίξτε μια συνομιλία σας με οποιαδήποτε επαφή σας στο Facebook Messenger και αποστείλτε το emoji του φεγγαριού (🌙). Αμέσως, θα σας εμφανιστεί …
Editor Picks
---