Τον περασμένο μήνα η Google προχώρησε στην εξαγορά του reMail, του δημοφιλούς offline mail client για το iPhone. Αμέσως μετά η εφαρμογή αποσύρθηκε από το App store.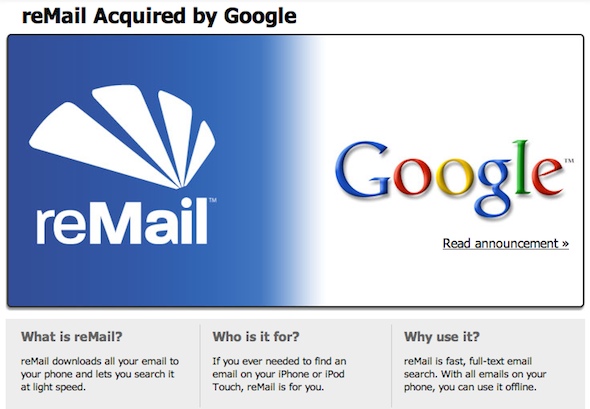 Σήμερα είχαμε νέες εξελίξεις με την reMail να ανακοινώνει ότι ο κώδικας της εφαρμογής είναι πλέον Open Source:
Last month, we announced reMail's acquisition by Google. Since we'll be focusing on other projects at Google, we also decided to remove reMail from the App Store. Existing users were able to keep using it because reMail is a client-only application. Our announcement caused a lot of interest in reMail's product, and we looked at a number of options to make it available in some form. We decided that the best option was to open source the code, which is now available on Google Code as remail-iphone under the Apache 2.0 License.
As someone who is passionate about mobile email, my hope is that developers interested in making email-related apps can use reMail code as a starting point. Part of the reason email apps are hard is because you have to pay the tax of figuring out how to download email via IMAP, parse MIME messages, handle attachments, and store data. reMail has already solved these problems. If you have a great mobile email idea, I hope you will find reMail's source code helpful in your quest.
I put some effort into documenting the source code so you can get started on your ideas quickly. If you like reMail and want to improve it, I have also listed some potential projects with implementation tips. Most of these projects are features that users have requested in the past. I encourage you to contribute improvements back to the project. I've also created the group remail-iphone on Google Groups, which is a great place to ask questions. Best of luck with your projects!
Συζήτηση στο forum: reMail for iPhone
You might also like
---
More from Apps
---
15.8K
Η εφαρμογή του Netflix για iPhone / iPad σταμάτησε να υποστηρίζει το AirPlay.... μετά από 6 χρόνια απροβλημάτιστης λειτουργίας. Σύμφωνα με το Netflix, η παύση της υποστήριξης της λειτουργίας AirPlay στα iPhone, iPad και iPod touch οφείλεται σε "τεχνικούς περιορισμούς". Μετά …
Editor Picks
---