H Apple ανακοίνωσε μέσα από το επίσημο site της ότι αναζήτει νέους προγραματιστές ώστε να στελεχώσει μία νέα ομάδα ασφαλείας. Η θέση εργασίας ανακοινώθηκε στις 16-Oct-2009, 5 ημέρες έπειτα από την κυκλοφορία του jailbreak tool του GeoHot (blackra1n)… σύμπτωση;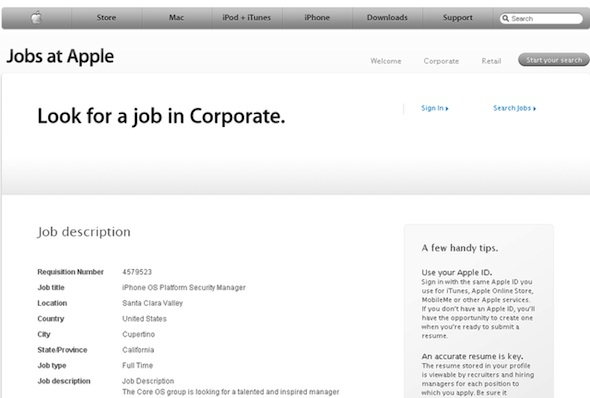 Το κείμενο της αγγελίας αναφέρει τα εξής:
The Core OS group is looking for a talented and inspired manager to lead a team focused on the platform security of iPhone OS. The team is responsible for secure booting and installation of the OS, partitioning and hardening of security domains within the OS, cryptographic services, and risk analysis of security threats. The team is made up of a variety of security experts with backgrounds in system security and reverse engineering.
This position requires a very technical and hands-on leader, someone with a passion for understanding security exploits and coming up with innovative methods to create secure platforms. You must be a highly self-motivated individual who seeks to create a dynamic and creative team environment in which old problems are solved in new and innovative ways.
Job responsibilities include:
• Leadership and management of a team of talented security engineers in a fast-paced and demanding software development environment
• Setting the roadmap for the iPhone OS platform security with an emphasis on hardware support and trusted computing methods
• Creating and promoting a development environment that encourages innovation and sets high standards for quality and productivity
• Driving a methodology for proactively finding security vulnerabilities
• Working cross-functionally with other software, hardware, marketing, and support teams to provide the best platform security solutions for Apple's products
Required Skills and Experience:
• Minimum of 3 years experience managing a software development team
• Direct experience with cryptographic or security related technologies
* Expertise in system design as related to hardware and software security exploits
• Direct experience with developing on and for the Unix operating system
• Evidence of driving technical innovation
• Strong communication skills
• Bachelor's degree in computer science or related field
Desired Skills and Experience:
• Cross-platform project development experience is a big plus
• Experience with Mac OS X and iPhone OS is a big plus.
[Thanks to thanasis]
Συζήτηση στο forum: Η Apple προσλαμβάνει προσωπικό ασφαλείας για να καταπολεμήσει το jailbreak;
You might also like
---
More from Apple
---
11.2K
Ο Jony Ive, ίσως ο διασημότερος product designer στον χώρο της τεχνολογίας και αδιαμφισβήτητα το διασημότερο στέλεχος της Apple μετά τους Steve Jobs και Tim Cook, ανακοίνωσε ότι αποχωρεί από την εταιρεία για να ιδρύσει το δικό του creative studio! Ο Jony Ive ξεκίνησε την καριέρα του …
Editor Picks
---