Τώρα γίνεται ολοένα και πιό ξεκάθαρο γιατί η Apple θέλει να εξαγοράσει διαφημιστικές εταιρείες, πρώτα με την AdMob και τώρα με την Quattro Wireless.
Μία νέα πατέντα δείχνει το App Store στο iPhone ή iPod touch να εμφανίζει διαφημίσεις.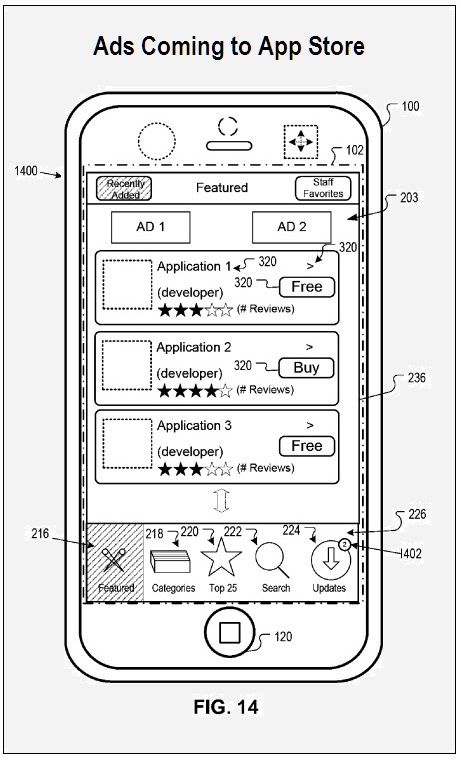 Η πατέντα αναφέρει:
"The display portion can also include one or more advertisements. In the display portion, a first advertisement and a second advertisement are shown near the title bar. In other implementations, only a single advertisement is presented. Alternatively, additional advertisements can be presented. Additionally, while the advertisements are shown near the title bar, one or more advertisements can be presented at different locations on the display portion."
Αλλά και μία άλλη πρόσφατη πατέντα της Apple έδειχνε το λειτουργικό σύστημα Mac OS να κυκλοφορεί και σε έκδοση με διαφημίσεις.
"In the case of a desktop or notebook, the UI and its components (e.g., menu bars, icons, etc.) may be faded, darkened, brightened, blurred, distorted or otherwise visually modified during the initial state (or while the advertisement is being presented) so as to emphasize that the desktop UI is temporarily inactive."
Τι άλλο άραγε ετοιμάζει η Apple; Ένα είναι σίγουρο, ότι συνεχώς ψάχνει τρόπους να αυξήσει ολοένα και περισσότερο τα κέρδη της!
Συζήτηση στο Forum: Ads are Coming to the App Store
Tags: iPhone