Η παρουσίαση του πολυαναμενόμενου Apple Tablet έλαβε τέλος… και το όνομα αυτού: iPad.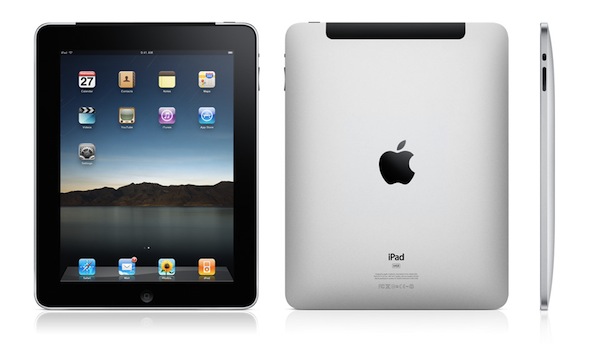 Το iPad είναι η πρόταση της Apple στην κατηγορία των Tablet. Δημιουργήθηκε με σκοπό να γεφυρώσει το χάσμα ανάμεσα στο iPhone/iPod Touch και στο MacBook προσφέρωντας συγκεκριμένες λειτουργίες των 2 προιόντων με πιο εύχρηστο τρόπο.
Οι λειτουργίες αυτές, όπως τις ανέφερε ο Steve Jobs στην παρουσίαση του keynote, είναι:
"Browsing the web. Doing email. Enjoying and sharing pics. Watching videos. Enjoying music. Playing games. Reading ebooks".
Το iPad λοιπόν υπόσχεται να δώσει μία αλλή πνοή σε καθημερινά tasks μέσα από ένα γνώριμο interface, αυτό του iPhone/iPod Touch.
Η συσκευή μοιάζει σαν ένα μεγάλο iPhone με οθόνη 9,7 ιντσών και είναι κατασκευασμένη με την τεχνική των MacBook (unibody) από ένα μασίφ κομμάτι αλουμινίου!
Αναλυτικότερα τα χαρακτηριστικά του:
9.7-inch (diagonal) LED-backlit glossy widescreen Multi-Touch display with IPS technology
1024-by-768-pixel resolution at 132 pixels per inch (ppi)
Fingerprint-resistant oleophobic coating
Support for display of multiple languages and characters simultaneously
16GB, 32GB, or 64GB flash drive
1GHz Apple A4 custom-designed, high-performance, low-power system-on-a-chip
Accelerometer/Ambient light sensor
iTunes/App store:
Το iPad κυκλοφορεί έχοντας ένα μεγάλο πλεονέκτημα έναντι του ανταγωνισμού. Το App store! Όλες οι εφαρμογές του App store θα είναι διαθέσιμες και θα υποστηρίζονται από το iPad.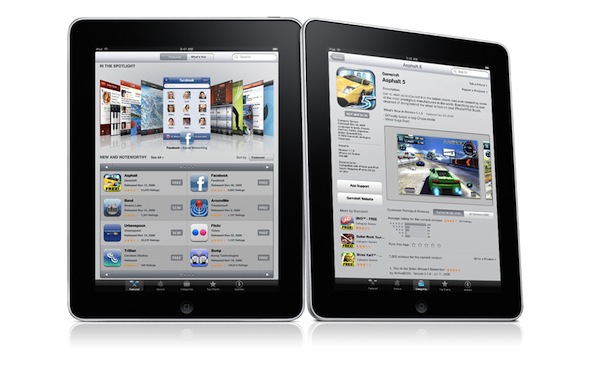 Ο χρήστης μπορεί να επιλέξει εάν θα δει την εφαρμογή στο μέγεθος της οθόνης του iPhone ή εάν θα την δει full-screen. Ήδη οι developers έχουν ξεινήσει την μετατροπή των εφαρμογών τους ώστε να υποστηρίζονται και από την μεγαλύτερης ανάλυσης οθόνη του iPad.
iBooks: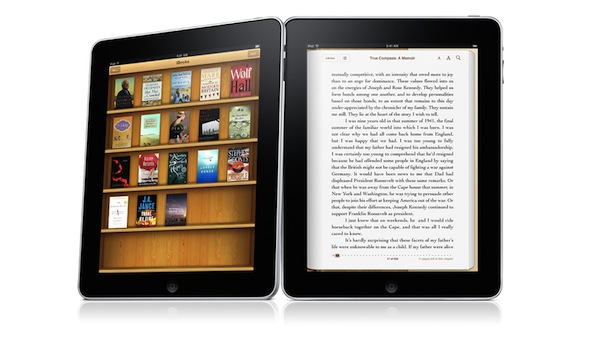 Το νέο ηλεκτρονικό κατάστημα – στα πρότυπα του App store – για ηλεκτρονικά βιβλία.
Ποιές εφαρμογές διαθέτει εγκατεστημένες το iPad:
- Safari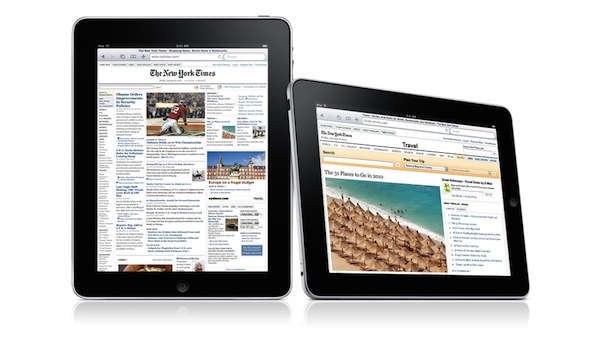 "See web pages at a size that's readable, in either landscape or portrait. And let your fingers do the surfing."
- Mail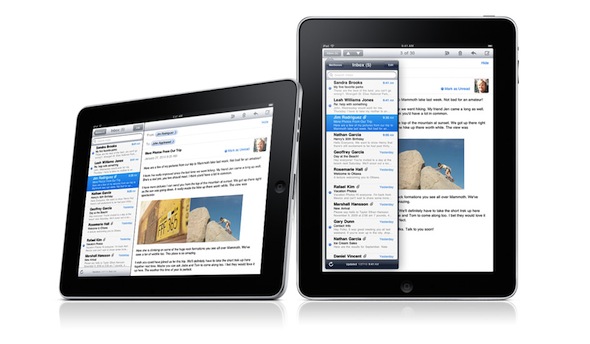 "With a split-screen view, and a large, on-screen keyboard, the Mail app makes it easy to stay in touch."
- Photos
"The Photos app lets you see your photos in stacks. And you can flip through your photos, or play a slideshow, with just the touch of a finger."
- Video
"The large, high-resolution screen makes iPad perfect for watching HD movies and TV shows, podcasts, and more."
- YouTube
"The YouTube app organizes videos so they're really easy to see and navigate. To play a video, you just tap it."
- iPod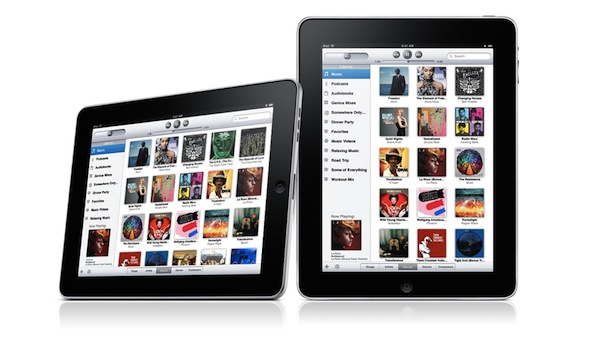 "The iPod app lets you browse by album, song, artist, genre, or playlist, with just a tap or a flick. So all your music is literally at your fingertips."
- Maps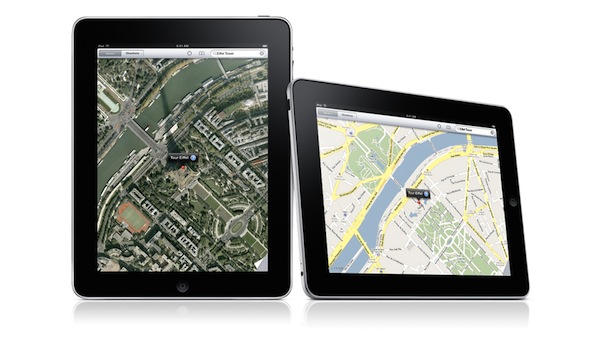 "With Maps and the large, high-res screen on iPad, it's never been easier to find your way in the world."
- Notes
"iPad makes it easy to jot down notes with its large, on-screen keyboard and a clipboard that shows a list of all your notes."
- Calendar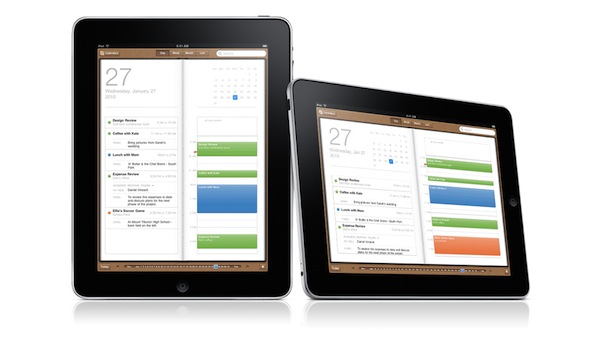 "The Calendar app lets you flick through appointments one month, week, or day at a time. And you can manage work and personal calendars in the same place."
- Contacts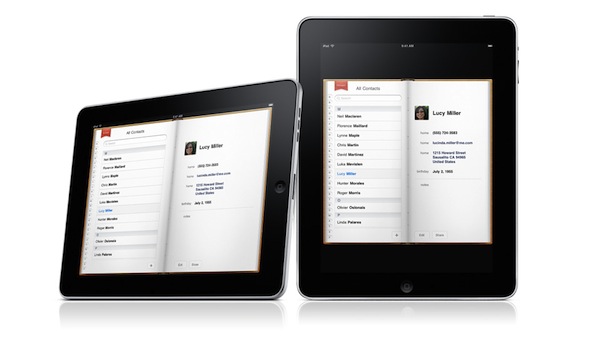 "The Contacts app on iPad makes finding names, numbers and other important information quicker and easier than ever before."
Το iPad προσφέρεται σε 2 εκδόσεις: Μία με Wifi και μία με Wifi + 3G (UMTS/HSDPA 850, 1900, 2100 MHz – GSM/EDGE 850, 900,1800, 1900 MHz).
Οι τιμές του iPad ξεκινάνε από $499 για την έκδοση WiFi των 16GB και φτάνουν ως τα $829 για την έκδοση Wifi+3G των 64GB.
Αναλυτικότερα οι τιμές ανά έκδοση:

Δυνατότητες του iPad:
- TV and Video
Support for 1024 x 768 with Dock Connector to VGA adapter; 576p and 480p with Apple Composite A/V Cable, 576i and 480i with Apple Composite A/V Cable
H.264 video up to 720p, 30 frames per second
Main Profile level 3.1 with AAC-LC audio up to 160 Kbps
48kHz, stereo audio in .m4v, .mp4, and .mov file formats
MPEG-4 video, up to 2.5 Mbps, 640 by 480 pixels, 30 frames per second
Simple Profile with AAC-LC audio up to 160 Kbps
48kHz, stereo audio in .m4v, .mp4, and .mov file formats
- Audio Playback
Frequency response: 20Hz to 20,000Hz
Audio formats supported: AAC (16 to 320 Kbps), Protected AAC (from iTunes Store), MP3 (16 to 320 Kbps), MP3 VBR, Audible (formats 2, 3, and 4), Apple Lossless, AIFF, and WAV
User-configurable maximum volume limit
- Mail attachment support
Viewable document types: .jpg, .tiff, .gif (images)
.doc and .docx (Microsoft Word)
.htm and .html (web pages)
.key (Keynote); .numbers (Numbers); .pages (Pages)
.pdf (Preview and Adobe Acrobat)
.ppt and .pptx (Microsoft PowerPoint)
.txt (text); .rtf (rich text format)
.vcf (contact information)
.xls and .xlsx (Microsoft Excel)
- Battery and Power
Built-in 25Whr rechargeable lithium-polymer battery
Up to 10 hours of surfing the web on Wi-Fi, watching video, or listening to music
Charging via power adapter or USB to computer system
- Input and Output
Dock connector
3.5-mm stereo headphone jack
Built-in speakers
Microphone
SIM card tray (Wi-Fi + 3G model only)
Διαθεσιμότητα του iPad
Το iPad θα πωλείται ως συσκευή χωρίς την απαίτηση συμβολαίου δεδομένων (data plan) το οποίο θα είναι προεραιτικό για τους χρήστες που θα αγοράσουν το iPad Wifi+3G και επιθυμούν σύνδεση στο διαδίκτυο.
Η συσκευή είναι ξεκλείδωτη (unlocked).
Οι τιμές του data plan θα καθοριστούν ανάλογα με τον εκάστοτε πάροχο.
Το iPad Wifi κυκλοφορεί εντός 60 ημερών ενώ το iPad Wifi+3G εντός 90 ημερών
Συζήτηση στο forum: Apple iPad unveiled
About Vasilis Ananiadis
Ο ζωντανός θρύλος της Ελληνικής blogόσφαιρας, ο αβυσσαλέος master του SEO, o πρίγκηπας των Social Media, ο τυφώνας των Web Startups, ο οργασμός της ιντερνετικής επιτυχίας. Τώρα και στο twitter: @vananiadis